Harpsichord Recital by Irina Danšina the September 16, 2007 at 18:00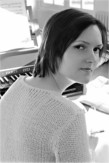 Le 16 Septembre 2007, à 18h00, pour clôturer les Journées du Patrimoine, le Pavillon Henri II reçoit Irina Danšina qui proposera un récital de clavecin. Le concert, organisé par l'association "Le Cercle de la Salamandre" sera gratuit mais attention les places seront limitées.
Irina Danšina est née, d'une famille russe, à Jurmala en Lettonie.
Admise à l'Académie de Musique de Riga, elle y suivra le Cycle d'Etudes Supérieures de piano et de musique de chambre, obtenant le diplôme de "Bachelor of Art". Bien que lauréate en piano de plusieurs concours internationaux, son intérêt pour la musique baroque ne cesse de croître. Fascinée par le clavecin et par son répertoire, c'est à Paris, dans la classe d'Elisabeth Joyé, qu'elle se perfectionne aujourd'hui.
En tant que pianiste ou claveciniste, Irina Danšina a donné des concerts en Lettonie, Allemagne (Festival "Europaïsches Musikfest Münsterland"), République tchèque et en France. En 2004 et 2005, elle participe au Festival J.S. Bach de Riga (Art de la Fugue et Quatrième Concerto Brandebourgeois). Musicienne accomplie, Irina DANŠINA s'intéresse également à la musique vocale et c'est aussi en tant que choriste, dans le Chœur Orthodoxe "Blagovest", qu'elle a parcouru l'Europe !