Photo Exhibition Fe2O3 | Precisions on Corrosion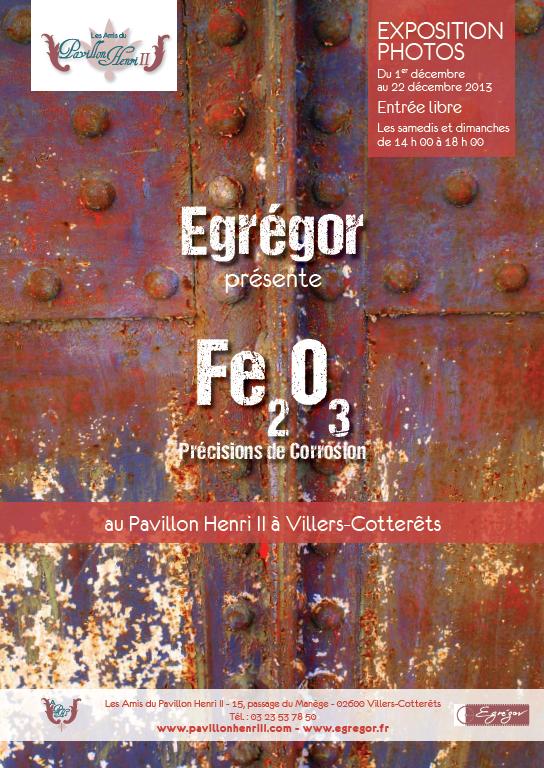 "I am pleased to discover his talent as a photographer. I love his very conception of pictorial photography. As a painter, he first has an inner vision of what he wants to show us. His pictures, very well structured with a good mastery of color and geometric shapes are a reflection of his imagination: they give us to dream."
Dominique FOURNIER,
pianist and organist , former program director of TV5 Monde and director of cultural relations France Télévisions.
Author of the book "La passion prédominante de Janine Reiss : la voix humaine"
BIOGRAPHY
Egregor, whose real name is Johan-Bastien Polle, lives in Picardie region, which is important to him. The remarkable skies, forests and its important heritage lead to his first love to architecture and sculpture, his passion materialized in acquiring the Pavillon Henri II. This assembly forms the envelope in which this photographer works, with a honest and deep approach. As a teenager, he feels attracted to photography, which is accentuated after a course of art history in graduate school. If the premises are born around 1999, the mastery of techniques becomes solid in 2007. Then germinate early works. The real inspiration, hatched in 2011. "What is most agreeable to me in photography is the relative perception I have of things that surround me." No frills, but also without minimalism, photos of Egregor offer another reading of our daily lives, our immediate environment. Through details of the realilty, the focus made on almost insignificant element and penetrating vision of the artist, an intense spiritual beauty is created. His photographs compel us to better perceive our place between micro and macrocosm. These dimensions induce another recurring theme, time. It is in the paintings of Georges de Latour, Caravaggio, Rembrandt that he envisages light, it is in those of Turner he finds infinity of possibilities.
EXHIBITION
"Fe2O3 | Details of Corrosion"
From 1st to 22nd December 2013
Considering the often photographed elements of oxidized metal, he decided to dig deeper. It seems that his passion for passing time is expressed in this exhibition, which is a zoom of the time that attacks materials. The colors, the textures are all beauties that emerge and fascinate. Marvel at the beauty of the rust that we are trying to stop as well as we try to hide the wrinkles that appear on our faces, that however do not detract from the charm of the character. On the contrary, they reflect his experience. When he discovered with great interest the exhibition Edward Burtynsky at the Photographer's Gallery in London, he decided to finally embark on the adventure of exhibition. The photographs show only Egregor's reality despite very first pictorial impression. Knowing how to look differently and at other scales to better understand the matter around us and find the light and color where you least expect it. Only thanks to the photographer, " Fe2O3 | Details of Corrosion" highlights a world oh so colorful and catchy, and sweeping the dirty and sad rust dull image.
"Twilight is so beautiful, but doomed to oscurity"
Li Shangyin ( 813-858 )
"Photographing the last time of the day or the imminence of decay is also a way to capture the beauty of what is lost"
Michael Freeman